Sa totoo lang, wala kang dapat ipagmayabang dahil wala ka pa sa kalingkingan ng pagiging ina ng nanay ko sa amin!
That's me, imagining the worst line I wanna deliver to the biggest b*tch of them all.. and I'm daydreaming.
I've been too tired, and it felt like I'm punishing myself at work.  I needed to attend to some personal matters that really matter.  Today, I thought of throwing stuff away.  Yeah, I like to throw stuff away.  Its a new habit that I have suddenly formed out of the Ondoy experience.  The whole tragic experience brought me to an understanding how life can be short and that there are far too many things that should be experienced.
I lost a lot of things that were very important to me that time.  I'm quite a sentimental person, but in the end, when Ondoy washed them away, I learned something important.  VERY IMPORTANT.  Its that life isn't about the material things that you think matter to you, but the memories that you have for each event, each page of your life.
Some of the most painful things I had to throw away were books.  Imagine how loudly I screamed when I saw my whole cart of books swimming inside the house!  And it even included my precious yearbook (wherein, I dearly hate the editor for editing my eight-worded self description--as if she ever understood about individuality! Gaaahh, I'm so not talking about it here and now.. hmph!!!).  It had a whole collection of best seller books I haven't even touched in years, yet I kept promising myself I ever will complete reading them all.
I had to close one eye, and carry on with my life.  Knowing that I'm throwing things that I didn't even lay my hands on for a year or so, it felt a little better.  When I threw away my books, I (quite..) learned to respect paper.  I refuse to bring home paper materials, just to lounge them around.  That's why I bought Nook to help me motivate myself to read more and yet conserve space and paper.  I used to keep receipts and other  bills up to 2 years old! (man, I'm such an OC person!) Now, I don't.  I keep only the last 3 months' bills, and the last month's ATM receipts.  Sheez, its still undeniably an OCD. :P
This has also in turn, brought more maturity and responsibility for me.  I refuse to buy things when I don't have a specific place to put them in.  I became more utilitarian.  I learned to recycle some of my stuff, and I learned to share.  :)  I had to give away the most important toys I had to give to the more needy, and to those I felt could actually treasure them for me.  Sigh.. I remember Toy Story 3.  For each time I shop for clothes, I release the old ones for donation or recycling.  I never stuff my closet with too much items.
Today, I had the feeling I had to release some more items from the room.  Almost all of my important stuff are not sealed away from air tight containers.  Thanks to Biokips! :) I have five of those 11.5L containers and two small Lock & Lock containers for my beauty and kikay kits :)  I've been staring at these containers, thinking I have to empty another one.  Somehow, the goal is to live in Zen.  In complete peace that my physicality would not be dependent on so many things around me.  One of everything I need is enough.
With this, I unpack each container, and scrutinize what I had inside of them.  Most were rescued, very important books.  Sentimental items, and college documents.  While I was breezing through these stuff, I kind of went on a trip down memory lane.  Though I was only looking at 3 containers, it took me more or less half the day to admire them all and assess which ones deserved to stay, and which ones are to be disposed of.  My cat was very happy to assist me though with my job by staying cute and doing nothing; she inspired me. :P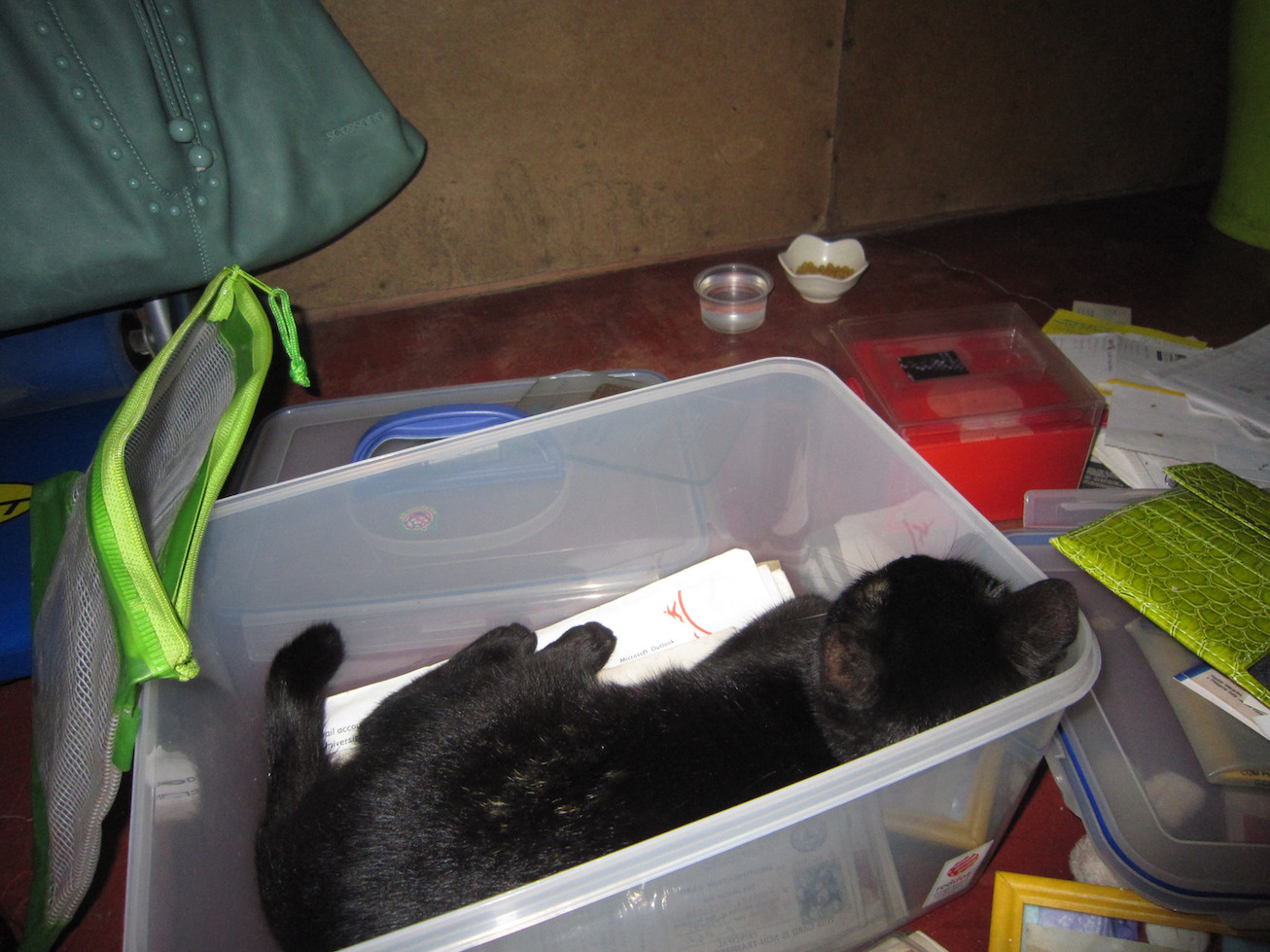 I took out some boxes that were eating up space.  I removed a frame that became so sentimental to me when JP died.  I'm now keeping just the photo.  I found some of my old IDs and old cards (Singapore's pass ticket, Mabuhay miles card, Artwork privilege card, etc).  I found that I have also kept a lot of JP's doodles from our old company, gametel.  Now, it felt like I don't need these things to remember him.  He's already rooted within me.  When I kept away his photo and stuff that strongly reminded me of him, I became my own strength.  The less I relied on his memory to survive, the more I became me, a stronger me.
I was able to take out old receipts that won't even be missed anymore. What kind of pissed me was that, some of the elementary and high school report cards that I was able to rescue from Ondoy was still damp (ewww, I know).  This made some of the photos absorb the moist.  Good thing it was quite hot this day.  I took out all the damp papers and spread them out again to let dry.
Then, there were my cat's medical records.  I found I kept all the receipts from when she was spayed 'til now.  I'm glad I always keep these sort of things.  I'm going to need them to establish her beautifully kept record in case we'll need to travel. :)  I also found something to brag about my cat.  She won an award way back when she was two years old.  Hehe.. Find her in the photo if you can. :P (Hint: I'm standing amongst the teachers, and my cat is wearing a uniform :P)  The pets ramped around the campus by their owners.  My pet being a cat, she was simply sitting in a baby doll's stroller and was sitting quietly while the students mused around her.  She's got to be horrified that's why she was very behaved that time! Hahahaha..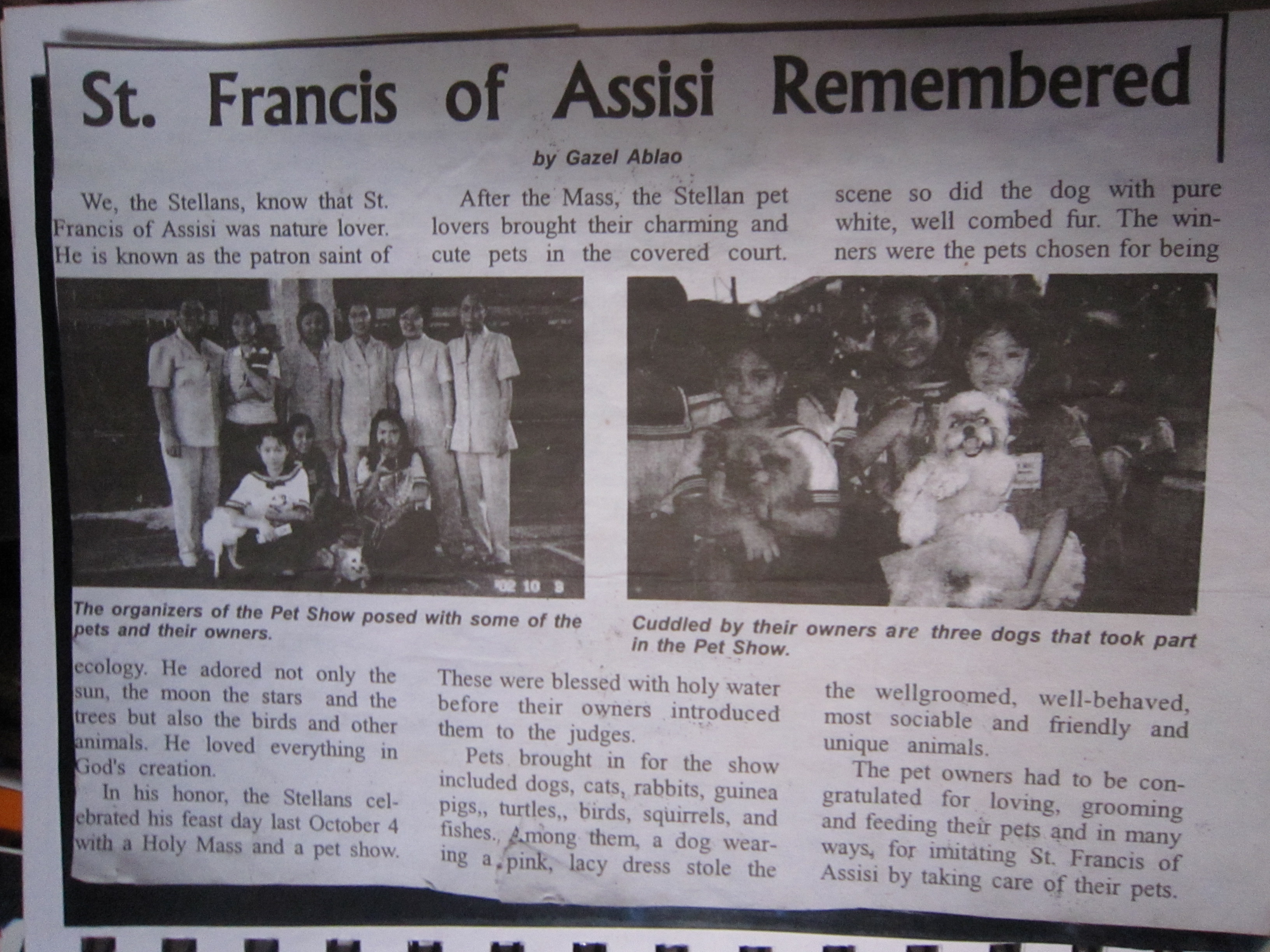 Aaah, travel.  I also threw away the airline tickets, etc. of my travelling experience with JP.  I already have photos, and my memory is impeccable at that!  There were also photos from way back that I found while sorting sentimental stuff.  I think this photo was taken in the late 90s.  Too bad, I can't remember the year now.  At this time, I was single (no difference now! haha).  We found this new studio at Ali Mall called something that starts with "Odd".  They had this tons of wigs, costumes, etc.  I thought we might give it a try.  The photo was extremely beautiful and really brought out our liveliness.  The only thing I hated was mama kept staring at something else. :P  Come to think of it, I called myself the "Earth witch" here.  Hmmm.  What a lovely mixture of family members.  Extremely extraordinary. :D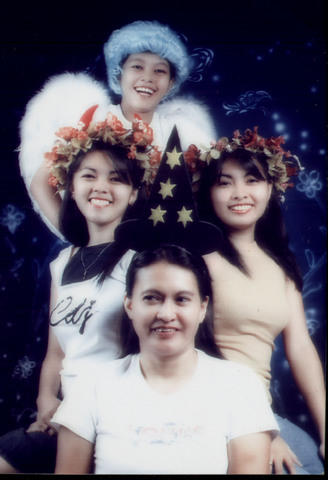 Well, the wining piece of the memory trip here is back when I was still very young.  Too young to even remember.  My mother is the proudest mom of all when I was born.  I'm sure of it.  She's still as proud as ever now, because she raised us to be so damn good.  Its just a shame, I didn't get the biggest slot in this page, but nonetheless, I'm proud of it!  I kissed the teddy bear! :)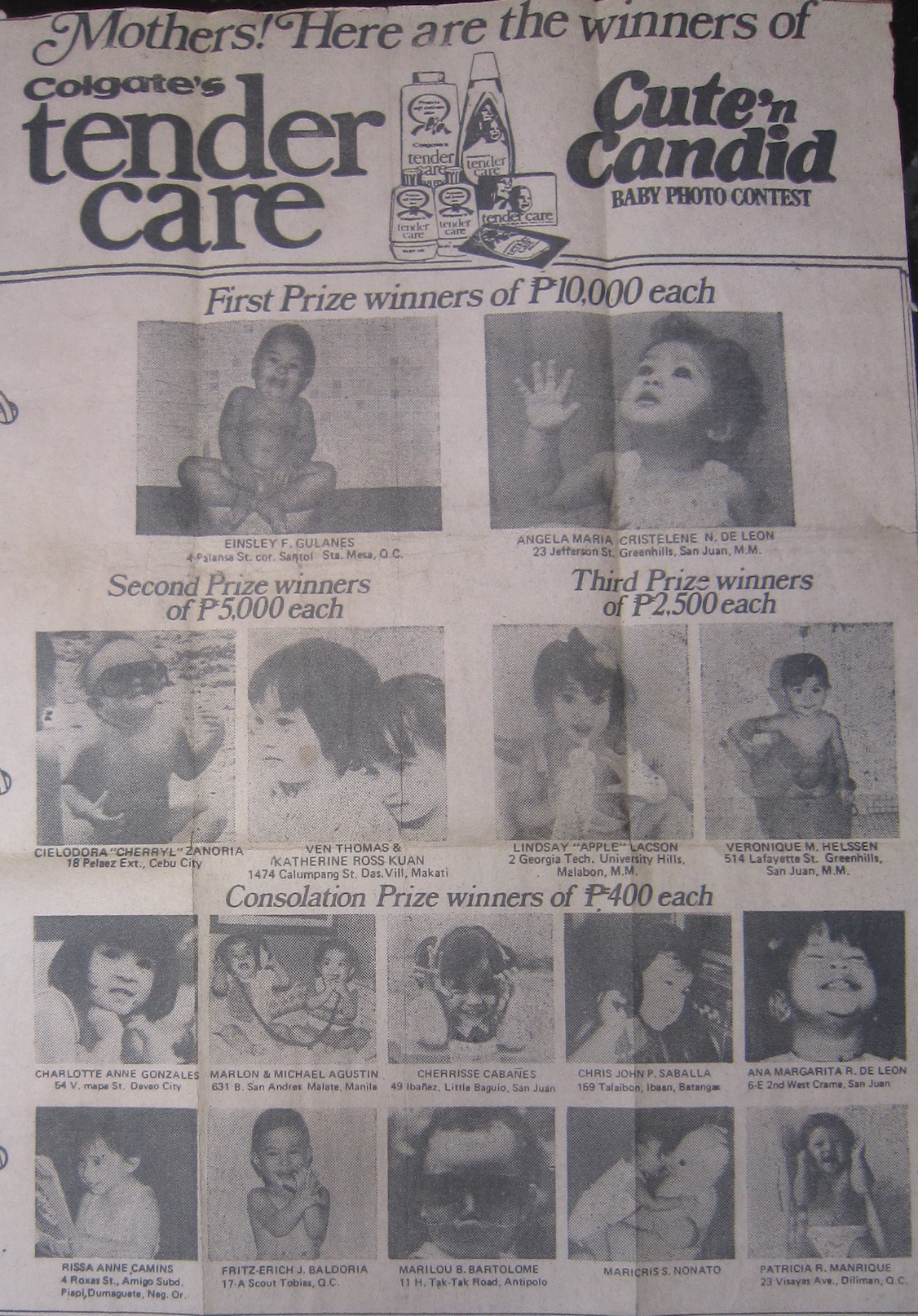 Wouldn't you know.. We won something greater than 200 pesos in the year 1981, just because I kissed that big teddy bear! Hahaha.. Its just funny I didn't have an address written on it. My mom must have forgotten it because she was so excited to send in my photo.  Sigh.. She handed me these clip from 1981's newspaper when we won.  Along with this, she gave me all the documents she kept for me when I was young, thinking I would be soon moving away with my future (now late) husband-to-be.
It feels good to have cleaned your stuff, reminisce a bit, throw away some trash and yet still feel to be so full of life and happiness creating experiences.  Nothing would ever erase that.  Nothing.  :)